Exhibitions/First Floor
Floor Map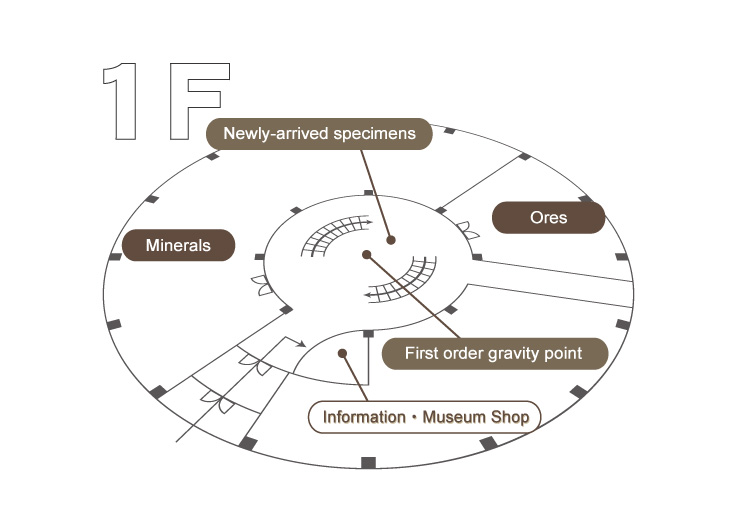 Gallery
1F
Exhibition Room
On the ground floor, more than 2,200 specimens of 500 kinds of minerals and ores collected from around the world are exhibited. Our collections are based on the studied samples in Akita mining school and Akita University, donations from the mining company and private collections in Japan. Large specimens collected from domestic metal mines, particularly in Akita, show excellent qualities and will surely attract visitors.
 Japanese twin of quartz (Otome Mine)
 Native gold (Nakase Mine)
Kuroko ores
Kuroko deposits are massive, stratiform-sulphide ores which contain various kinds of metals. They were mainly produced from Hokuroku area in Akita Prefecture during the periods of Japan's modernization and economic growth.
Large specimens of Kuroko; Specimen from Kosaka mine Motoyama pit (upper) and Ezuri mine (lower). Their weights are estimated at approximately 1.4 and 0.8 ton, respectively.
Recent cobalt-rich crust (Depth 1470m Line island, Central Pacific Ocean)
Fluorescent minerals
Chalcopyrite and galena
A layered manganese ore specimen from Noda-Tamagawa mine, Iwate prefecture.
Central hall

A first order gravity point at the center of the hall. The gravity intensity here is g=9.8017580m/s2.
Exhibitions of Manjiroite, Watanabeite and Kanoite displayed with profiles of Manjiro Watanabe (2nd university president), Takeo Watanabe (4th president) and Hiroshi Kano (a professor emeritus)
Now let's go upstair and see the second floor's exhibitions!!